(NOTE: I am going to kill the suspense immediately by telling you in the first sentence that I loved this film and watched it twice just in the process of preparing for this review.)

In case you haven't figured it out, Craig and I have been alternating movie picks for this project. (Yes, I am the one who selected Killer Klowns from Outer Space. Insisted on it, really. I don't remember why.) For my second pick, I wanted to choose something more prestigious because, after all, this is Oscar season. When I thought about respectable, award-caliber movies from the 1980s, my mind immediately went to David Lynch's The Elephant Man, a serious, fact-based 1980 drama whose DVD cover proudly announces the fact that it was "Nominated for 8 Academy Awards." It won none of those, but still... honor just to be nominated, right?

I was first introduced to this film -- no lie -- by Joe Bob Briggs, who showed The Elephant Man as part of his long-gone, much-missed TV series, MonsterVision, in the 1990s. Doesn't showing The Elephant Man on something called MonsterVision kind of miss the whole point? Not exactly. To me, The Elephant Man has the look and feel of one of the old Universal horror films. The ghosts of such Universal directors as James Whale and Tod Browning hover over The Elephant Man.
It's worth noting that The Elephant Man shares some of its DNA with another retro-styled black-and-white paean to the golden days of Universal Studios: Mel Brooks' Young Frankenstein. Brooks was the (uncredited) executive producer of The Elephant Man, and both films have gorgeous, evocative scores by John Morris. (On the DVD commentary for Young Frankenstein, Brooks says that Morris' music for Frankenstein is second only to his score for Elephant.) Now, I'm not saying that The Elephant Man and Young Frankenstein are alike tonally. They're not. The latter is a raucous comedy, while the former is a sober drama. But they share a common theme: a gentle soul trapped in a "monstrous" body, a being who is treated as a monster because he looks like a monster and whose outwardly-normal tormentors reveal themselves as the real "monsters" through their behavior. In both of these films, the unfortunately deformed characters try to reinvent themselves in the image of the sophisticated, well-dressed man-about-town.

There was, of course, a real Elephant Man. His name was Joseph Merrick -- not "John Merrick," as this film has it. I was not surprised that this movie veers rather drastically from the historical record, even though its credits and trailer both boast that it is based on on a "true life story" and not on any other fictional accounts, such as the Broadway play. The real Merrick was a willing and active participant in his public exhibition as a human oddity and was treated well during his days in the traveling carnival circuit. Moreover, the film's time line -- with Merrick being kidnapped away from the hospital, being kept in a cage, then escaping and returning to the hospital -- simply did not happen. Does this matter? Not to me, really. The true story is interesting, certainly, but I believe Lynch's ultimate aim was to give the audience more of a parable or (forgive my use of this frivolous-sounding term) fairy tale. Consider the character of Mr. Bytes: the cruel, selfish man who keeps Merrick his prisoner and ruthlessly exploits him for money. The character is a highly fictionalized version of Merrick's real-life boss during the carnival days. That name -- Bytes (the invention of the screenwriters, by the way) -- is something right out of Dickens. File it along with "Scrooge," "Jaggers," and "Gradgrind" in the list of unflattering Dickensian aptonyms. (NOTE: I learned about the concept of "aptonyms" from the book Crazy English by Richard Lederer.) The character's behavior and his treatment of Merrick -- and Merrick's arduous struggle to escape from his tyranny -- seem firmly rooted in the world of fantastic make-believe rather than the world of rigorously-researched history. To put it bluntly, The Elephant Man is not a documentary or docudrama, and I would scarcely have it otherwise.

I have come all this way in the review without really telling you what it is that I liked so much about The Elephant Man. One of my internal, never-expressed-aloud tests for a movie is: does it provide us with extraordinary things to see and hear? The best directors know that movies are primarily Things To Look At and secondarily Things To Listen To, and few filmmakers understand that better than David Lynch. Lynch and his cinematographer, Freddie Francis, provide us with such an overabundance of beauty that I could hardly absorb it all. Lynch films in widescreen here, and Francis gives us so much in focus at once that our eyes may freely roam the screen and find sharp detail in every corner. I love the whole world in which this movie takes place: the nightmarish carnival, the gas-lit hospital, the cobblestone streets. God, I wish the world actually looked like this! And the sound, too! That crazy David Lynch sound! The low, ominous rumbles and repetitive mechanical rhythms -- who else but Lynch (working again in tandem with Alan Splet) would have put these wildly grotesque touches into a "serious" period piece costume drama?

None of this, though, would mean a damned thing if I hadn't gotten wrapped up in the storyline. But I did. Not just wrapped up but totally absorbed and devastated. I am telling you, readers, I do not generally cry during movies but I was bawling at several points during The Elephant Man. And not necessarily during the moments when Merrick was suffering the most either! One of the most insightful things the critic Danny Peary said about It's a Wonderful Life (he reviews it in the first Cult Movies books; go read it when you're done here) is that audience members watching that film tend to cry not when George Bailey is at his lowest points but rather at those moments when he is happiest or expressing gratitude for all that he has. It was the same for me during The Elephant Man. What moved me the most were the times of triumph and warmth, like when Merrick -- having just "flunked" his initial interview with John Gielgud -- astounds both Gielgud and Anthony Hopkins by reciting the 23rd Psalm from memory.

Anthony Hopkins! Jesus, I haven't even mentioned Anthony Hopkins! He's alarmingly good here -- and subtle. I like the way his character -- Dr. Frederick Treves, the London physician whose memoirs about his friendship with Merrick provided much of the basis of the screenplay -- is so calm and quiet for the most part, except for one big scene in which Treves loses his cool. It's through Treves that we also explore one of the trickier themes of The Elephant Man: is Merrick just being exploited all over again by a fancier class of people? Is David Lynch just exploiting the man a century later by making this movie? Do we feel real empathy for Merrick or just pity? Should we even be watching? Is it worse to look at Merrick or to look away? Which is the bigger insult?

The movie, to its credit, does not answer these questions in any kind of definitive way. Art should generally stick to raising questions rather than answering them. I will say only that watching The Elephant Man was a rare experience for me. I was left aghast, shocked, moved, wrung out. Goddamn, what a film.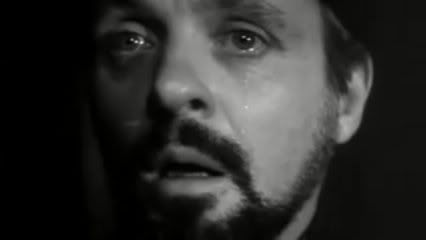 Like Joe, while reviewing The Elephant Man for this series I was knocked out all over again, just like I was the first time I saw it back in college. Having grown up almost exclusively on a diet of sitcoms and Hollywood movies, I credit my four years of higher education with getting me to hunker down and explore some of the more obscure corners of popular culture. The process had already gotten underway to some degree while I was in high school since that was when I became aware of Monty Python and started to view PBS as a source of more than just children's television and stuffy costume dramas. My interest in all things cinematic, both foreign and domestic, though, can be traced to Trenton State's Cinemateque, which was programmed by one of the professors in the communications department (whose name sadly escapes me). It was through the Cinemateque that I saw my first silent film (Buster Keaton's The General), my first subtitled film (Werner Herzog's The Enigma of Kaspar Hauser) and my first David Lynch film (The Elephant Man, natch). There are some who might balk at putting Lynch in his own category, but if anyone could be said to be a singular filmmaker, it would have to be he.

This was especially the case in the early '90s, when Lynch was at the peak of his mainstream success as the co-creator of Twin Peaks, which brought his obsessions -- along with Blue Velvet's depiction of small-town life as a hotbed of secret depravity -- to prime time. When he was handpicked by producer Mel Brooks to bring The Elephant Man to the screen in 1980, however, he was only known for the bizarro cult movie Eraserhead, which is about as uncommercial as a film can get. A surprise hit on the midnight-movie circuit, Eraserhead was Art with a Capital A-R-T, so it took an enormous leap on Brooks's part to imagine that Lynch could make a film set in the real world and based on the life of an actual person (even if, as Joe points out, a great many liberties were taken with it). Indeed, the film opens with an abstract sequence depicting the event that supposedly caused John Merrick's deformity -- his pregnant mother being knocked down by a wild elephant in her fourth month -- before settling in for the more straightforward and conventional story of the noble London surgeon (superbly played by Anthony Hopkins) who rescues him from the clutches of abusive carnival owner Freddie Jones, not realizing that there's a sensitive and articulate young man trapped inside the Terrible Elephant Man's misshapen body.

And what a body it is: whether seen in shadow or silhouette or even in the harsh light of day, it never fails to make an impression, even on one who has seen the film many times over. The first time Dr. Treves catches sight of Merrick -- having doggedly tracked him down after previously being denied access to him thanks to the inopportune intervention of the police -- he is actually brought to tears. And when Treves presents him to the London Pathological Society there are audible gasps and a great deal of consternation from the medical professionals present. But that's nothing compared to how women react to his grotesque countenance. Treves's wife manages to put on a brave face when he comes around to tea one afternoon, but eventually she breaks down sobbing, overcome by his plight. I suspect that has as much to do with how articulate and well-spoken he is as it does with his inescapably hideous appearance.

Much of the credit for making Merrick such an indelible character has to go to John Hurt, who does a yeoman's job of working under pounds of prosthetics and cumbersome makeup. "Can you imagine the kind of life he must have had?" asks hospital governor John Gielgud after he has learned that Merrick is not the imbecile everyone imagined him to be. He could have just as easily been talking about Hurt, who endured countless hours of pain and hardship to play the role. And it is a heartbreaking performance, whether he's desperately reciting the 23rd Psalm from memory or reading Romeo and Juliet out loud to a famous actress (Anne Bancroft) who has called on him or delivering the film's most famous line -- "I am not an animal! I am a human being!" -- to a bewildered crowd that has him cornered in a train station. No matter how many times it has been spoofed in the three decades since this film's release, it still grabs the viewer on a gut level. That's acting, folks.

In retrospect, The Elephant Man's industrialized England doesn't look or sound too far removed from the hellish, post-industrial (post-apocalyptic?) landscape of Eraserhead, a film I didn't catch up with until several years later. This was, of course, at the tail end of the VHS era when copies were apparently quite scarce and the only video store I could find that carried it -- TLA Video in Philadelphia -- required a $120 deposit before one was allowed to rent it. Now that Eraserhead -- like all of Lynch's work, including his early shorts -- is readily available on DVD and even gets shown on cable once in a while, it's arguable that it's lost some of its cachet (maybe if it could still be seen in a darkened theater at midnight, it would get some of it back), but no matter how one views The Elephant Man, it continues to have an undeniable power that hasn't diminished over time. If the studios were still in the habit of re-releasing their classics in theaters, this would be a prime candidate, especially as this year is its 30th anniversary. They could even put it out on a double bill with Raging Bull; I guarantee there would be lines around the block.
Next up: A comic tale of international espionage with a theme song by a former Beatle.