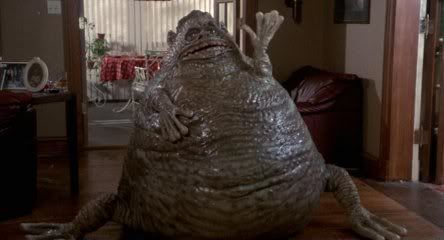 "Do you think God knew what He was doing when He created woman?" - DARYL VAN HORNE (not pictured)
When one thinks of '80s movies, one name that comes to mind almost immediately is John Hughes. A former writer for
National Lampoon
who parlayed his work on the humor magazine into film gigs like 1982's
National Lampoon's Class Reunion
(his screenwriting debut and an unmitigated disaster),
Mr. Mom
and the first of the long-running
Vacation
series, Hughes moved into the director's chair with 1984's
Sixteen Candles
, a seminal teen comedy and cultural touchstone for just about anybody who came of age in the '80s. Its success led to a string of films set in and around the fictional Chicago suburb of Shermer, Illinois, some of which (
The Breakfast Club
,
Ferris Bueller's Day Off
) Hughes directed and others (
Pretty in Pink
,
Some Kind of Wonderful
) for which he merely wrote the screenplay. And smack dab in the middle of them all was the totally bonkers
Weird Science
, which is far from Hughes's best work as a writer or a director, but it stretched him in ways that his more ordinary fare did not.
Briefly, the story revolves around a pair of scrawny outcasts (Hughes regular Anthony Michael Hall and Ilan Mitchell-Smith) who use a computer to create supermodel Kelly LeBrock out of thin air and proceed to have a wild, wild weekend with her. As we noted in our
Superman III
article, most people who lived in the '80s didn't know what computers were actually capable of, so a film like
Weird Science
could posit a scenario where a couple of geeks -- inspired by a late-night viewing of the Universal classic
Frankenstein
(which, incidentally, has suffered the indignity of being colorized) -- could make a working computer simulation of a woman on a 5" floppy disk by scanning a bunch of photographs into a device that looks suspiciously like a printer. Furthermore, when Hall decides they need more power, all they have to do is tap into a local military installation's network (using a primitive phone receiver modem) and it's there at their fingertips. (The sequence where Smith uses his hacking skills to get past the mainframe's security system features some
Tron
-like CGI and even a
Twilight Zone
reference.) Of course, simply scanning in a photo of Albert Einstein shouldn't be able to give their simulation Einstein's IQ, nor should hooking up a Barbie doll allow them to transfer it into the body of a real live woman, but there are certain allowances that one simply has to make with a fantasy film, otherwise you might as well just stay home.