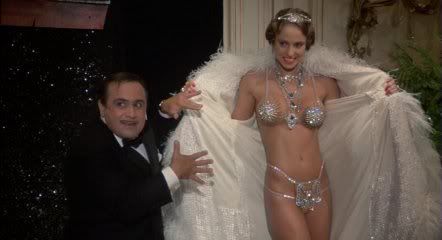 "You're dead for a real long time. You just can't prevent it. So if money can't buy happiness, I guess I'll have to rent it." -- "WEIRD AL" YANKOVIC
To paraphrase one Tom Servo, some films simply defy the laws of sequential occurrence in space and time. Such a film is Amy Heckerling's 1984 sophomore effort,
Johnny Dangerously
. Why did 20th Century Fox feel that America needed or wanted an
Airplane!
-type spoof of melodramatic 1930s gangster pictures, specifically those of James Cagney? As it turned out, the film died a quick and ignoble death, shunned by critics and audiences alike one grim September before finding a marginal place in the pop culture landscape as a perennial time-slot filler on local TV stations and a semi-cult favorite on home video. When viewed objectively in 2010,
Johnny Dangerously
seems like a well-intentioned near-miss, chockablock with spirited comic performances, endearingly baroque touches, and memorable running gags, yet somehow missing that indefinable spark of creative genius that elevates a film to the level of a classic. And yet, for some nebulous reason, the film holds a mysterious, hard-to-explain charm. I myself have fallen under the film's sway to some degree and have watched it several times in preparation of this very article. Why? What is the secret of
Johnny Dangerously
?
To answer that question, I have made rather a study of this curious film -- unscientific, yes, but earnest in its diligence nevertheless. Herewith, I present (with very minimal attempt at organization) my observations on
Johnny Dangerously
. I hope you will find them edifying.